Last Updated:2023/7/25
AYA Oncology Alliance in Japan
About Us
Our Aims
Among 1 million people newly diagnosed with cancer in Japan, approximately 20,000 are adolescents and young adults aged 15 to 39. There are also young people with cancer from foreign countries living in Japan. Although cancer diagnosis and treatment have a tremendous impact on their lives and life plan, not enough attention has been paid to their unique experiences, anxieties and concerns because the number of AYA patients is relatively small and their diagnoses are diverse.
AYA Oncology Alliance aims to improve the prognosis and quality of life of AYA cancer patients and survivors by creating networking opportunities to all stakeholders, providing education to healthcare providers and supporters on optimal care for AYA with cancer, and promoting researches and clinical programs for AYA with cancer.
Our Vision
A healthcare and society where young people can thrive with and beyond cancer.
Our Mission
AYA Oncology Alliance brings together a community of patients, professional providers, families and friends who share a mission to improve the lives of adolescents and young adults (AYA) who are diagnosed with cancer by enhancing clinical activities, promoting researches and raising public awareness.
Greetings from the President
 The Third term Basic Plan for the Promotion of Cancer Control predisposed by the Japanese Government in 2018 has increased the momentum to improve medical care and support for AYA generation with cancer at various levels in Japan. Among such attempts, AYA Oncology Alliance, as the only organization in Japan specializing in cancer among the AYA generation, has taken a leadership role in a wide range of fields since its establishment as a hub for stakeholders involved in medical care and support. Our activities include promotion of research through academic activities, human resource development, information dissemination, social engagement and enlightenment, and international collaboration.

 AYA with cancer has unique and individual needs but rarity and diversity of cancer in AYA generation makes it difficult to fulfill every need of each person. The mission of AYA Oncology Alliance is to provide prescriptions to overcome such rarity and diversity: Our mission is to take leadership in resolving issues specific to AYA, to become an advocate for AYA cancer survivors and supporters, and to be a hub for information and human resources exchange on AYA cancer. The pace of progress in cancer care is rapid and the social situation surrounding patients and healthcare is very fluid, but fortunately AYA Oncology Alliance fosters an environment where people from different perspectives can enjoy constructive and creative dialogue, while placing emphasis on a scientific approach.
 
 AYA Oncology Alliance implements patient-public involvement to make difference which is truly appreciated by patients and survivors with AYA cancer. Interest and understanding from the society would empower AYA who suffers from cancer experience. We would be very grateful if you could make cancer in AYA a personal matter for you and help us in any way.
Chikako Shimizu, MD, PhD
President, AYA Oncology Alliance (AYAKEN)
Committee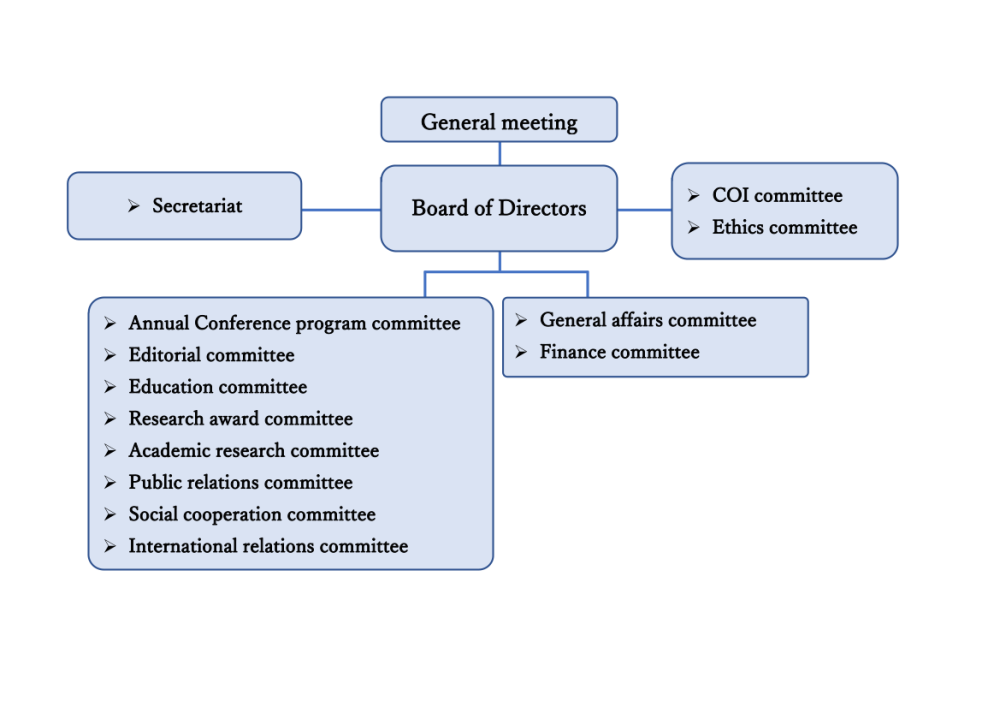 Annual Conference
6th Annual Conference of AYA oncology Alliance(2024)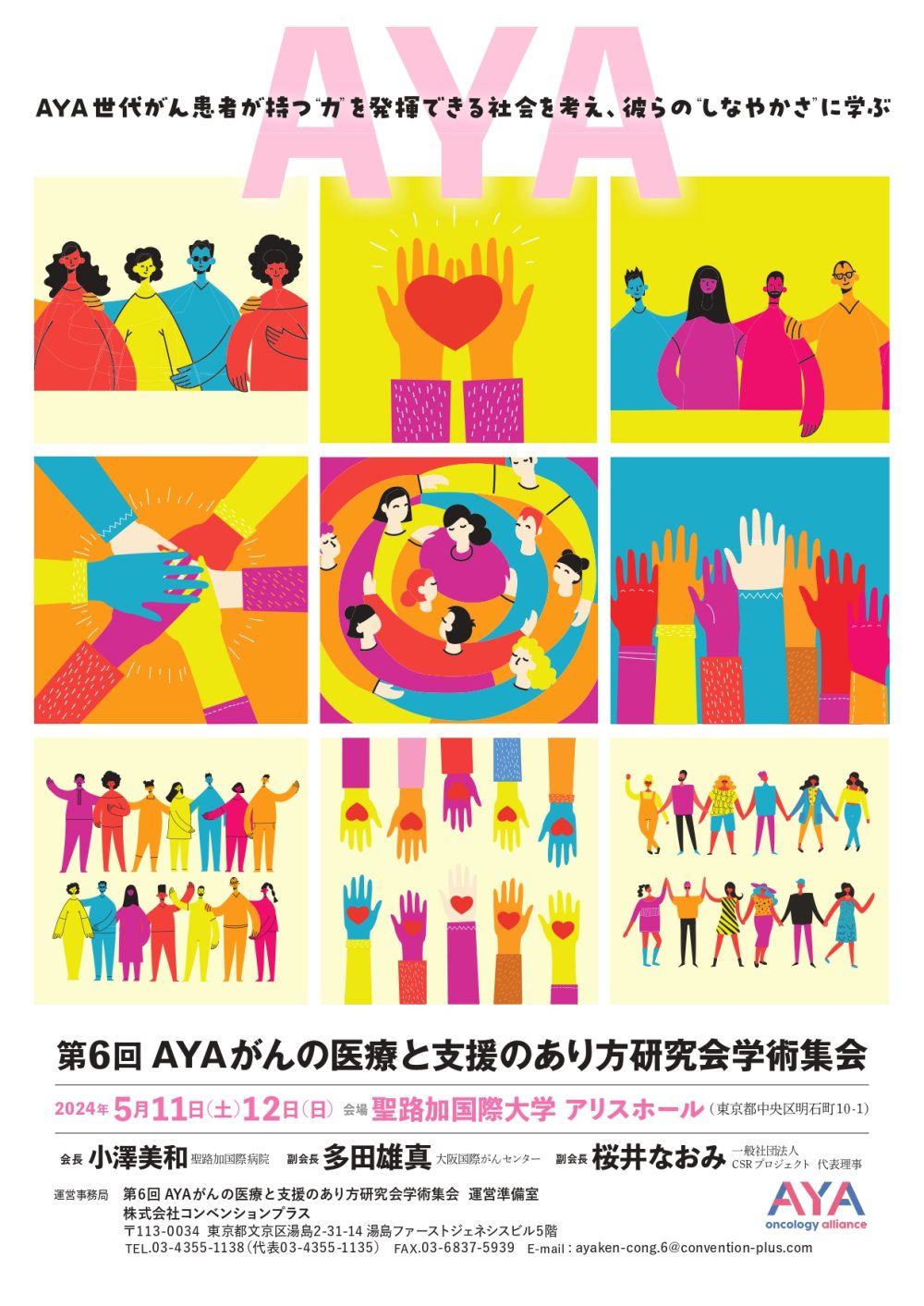 Date

May 11 (Sat) – 12 (Sun), 2024

Venue
St. Luke's International University
Alice Hall, Tokyo, JAPAN
President
Miwa Ozawa
Director, Department of pediatrics,
St. Luke's International Hospital
Vice-president
Yuma Tada
Osaka International Cancer Institute
Naomi Sakurai
Cancer Survivors Recruiting Project
Secretariat
6th Annual Conference of AYA Oncology
Alliance Secretariat Office,
Convention Plus, Inc.
ayaken-cong.6@convention-plus.com
5th (2023)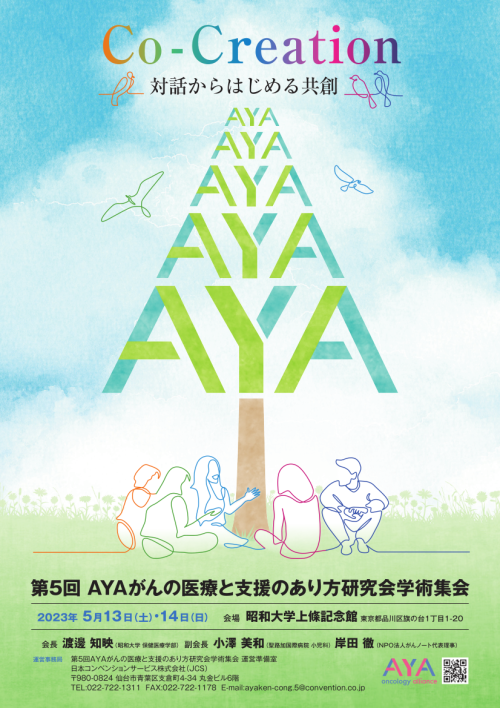 4th(2022)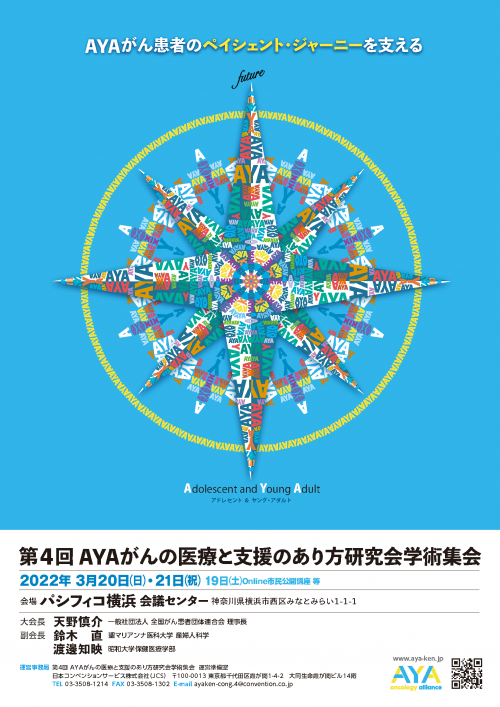 3rd (2021)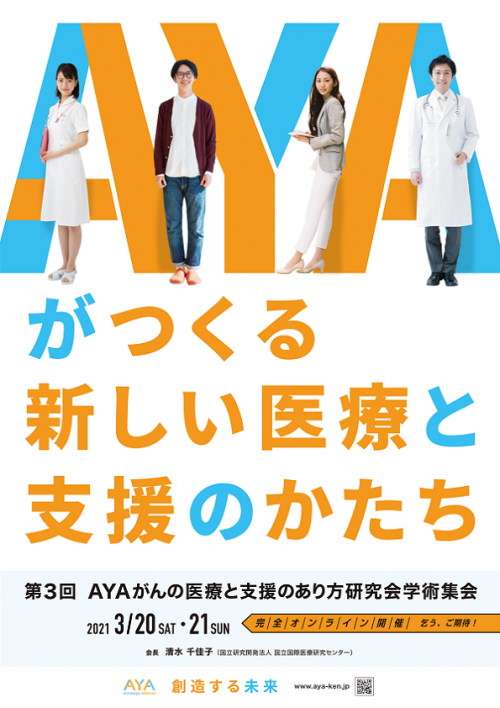 2nd (2020)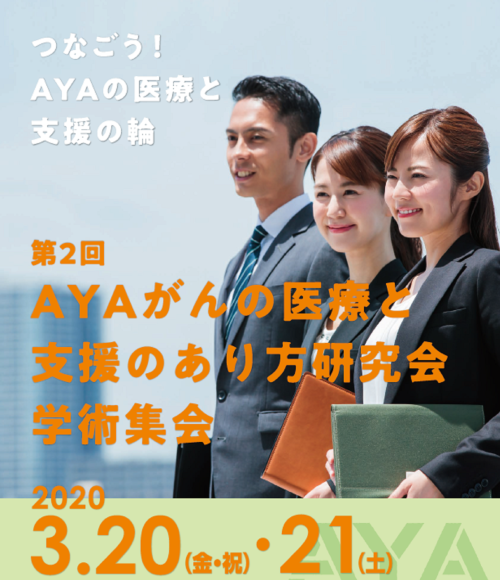 1st (2019)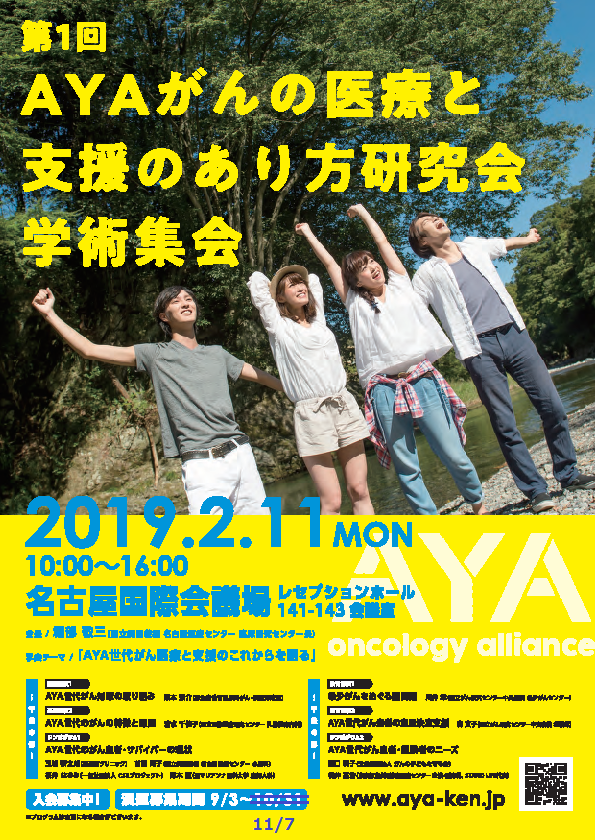 Publication
Journal of AYA oncology Alliance
The journal is available on J-STAGE and can be viewed by members.
Please use your subscriber number and password to browse.
The journal is scheduled to be published twice a year and paper submissions are accepted at any time.
We look forward to receiving your submissions, as we want to make J-STAGE a forum for the dissemination of research results, scholarly exchange, and information transfer.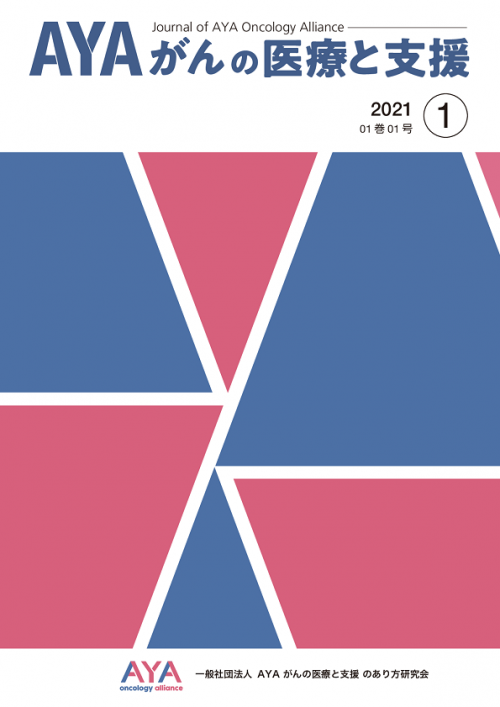 Activity
Workshop for Healthcare professionals
  Purpose
     • Become aware of the needs of AYA with cancer
     • Learn what you can do
     • Know where to find support for AYA with cancer
  program
     • Lectures
     • Workshops/Group works
     • Teem building for healthcare proffesionals
  Start from 2019
     • 1 or twice a year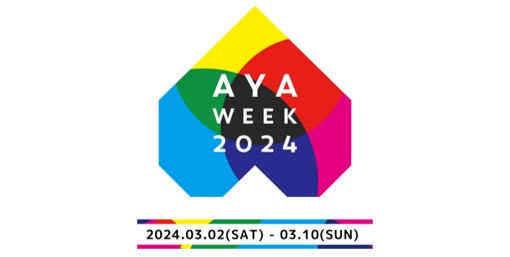 Social Engagement
  Theme
     • Understand, together
  Project
     • Understand current issues of AYA with cancer
     • Call for participants/organization/companies who held any
      kinds of meeting related to AYA with cancer
  Start from 2021
     • Held on 1 week
Social Network Service
      • Provision of information related to AYA cancer
      • Connections with peer support groups
Donation
HOW YOUR DONATION WILL HELP TO BRING POSITIVE CHANGE
Your contribution will be used for educational programs, activities to raise awareness, as well as promotion of research to help AYA with cancer survive and thrive.
Click the following button to make a donation


The credit card payment form will appear in Japanese.
You can switch the language to English by pressing the button on the top.
Contact us
AYA Oncology Alliance
CBC Annex Sakae-Building 8F
3-6-35, Nishiki, Naka-ku, Nagoya-shi, Aichi, 460-0003, JAPAN
FAX: +81-52-734-2183
E-mail:office@aya-ken.jp